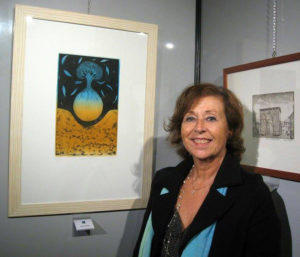 Carla Fossi, fiorentina, ha la passione per l'arte. Diplomata al Liceo Artistico, successivamente all'Accademia di Belle Arti di Firenze frequenta il corso di pittura del Maestro Silvio Loffredo.
Studia le tecniche della tempera, acrilico, disegno, affina la decorazione frequentando il corso di tecnica di chiaro scuro del Maestro Cavallini.
Dopo esperienze nella modellazione in cera per la realizzazione di gioielli approda, nel 2004, alla Fondazione "Il Bisonte" per lo studio dell'arte grafica, al corso dell'età libera del Maestro Manuel Ortega. Inizia a dedicarsi all'incisione con passione, approfondendo le varie tecniche incisorie con predilezione per la xilografia.
Dal 2006 è socia di Gadarte, prendendo attivamente parte alla vita dell'associazione proponendosi anche come organizzatrice di mostre e attività culturali.
Carla has always had a real passion for Arts. She attended painting courses directed by Maestro Silvio Loffredo at the Academy of Fine Arts in Florence after getting the high school diploma at the secondary school of Arts (still in Florence).
She studied many techniques such as tempera, acrylic, drawing, refined decoration and chiaroscuro. The last one in particular thanks to the teaching of Maestro Cavallini .
After several experiences in wax manufacturing towards the jeweler's production, in 2004, she discovered and started participating in graphics arts courses, directed by Maestro Manuel Ortega, at "The Bison" foundation of Florence. She began to devote herself to engraving with passion, deepening, the different printmaking techniques with a preference for the woodcut.
Since 2006 she is a member of Gadarte, she has been taking an active part in the Association life, by caring and organizing exhibitions and cultural activities.
mail. carla.fossi@yahoo.it
fb page https://www.facebook.com/Sagagugart
Web site www.carlafossi.com
Saatchiart https://www.saatchiart.com/carlafossi